The Nordic business and credit information company Enento Group is now making a strategic investment in the Swedish startup Goava Sales Intelligence AB and at the same time stepping in as the largest owner in the company. The partnership means that Enento Group, with an initial investment of SEK 38 million, now owns 38.3% of Goava and takes a seat at Goava's board. Enento has the right to become a majority owner in the future.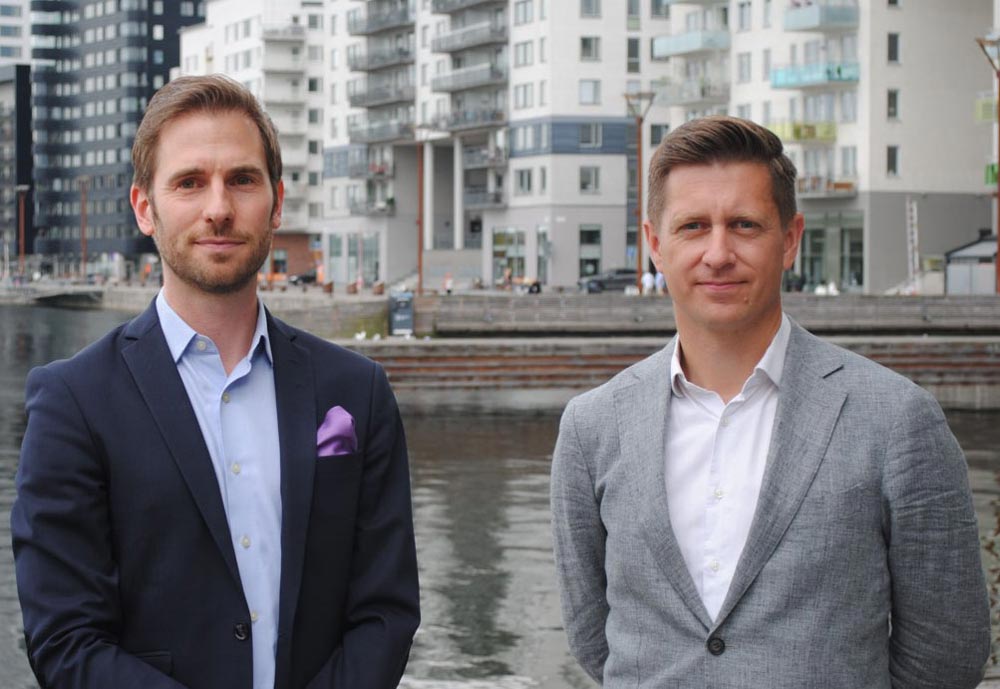 From left: Anders Frimodig and Jonas Ehne
Goava and Enento Group have worked closely together for a long period of time when it comes to data exchange. As of today, the collaboration is deepened through a partnership where Enento Group will invest an initial 38 million SEK and step in as the largest owner in Goava with a 38.3% stake. Enento has an option to acquire 100% of the company in 2025.
- Our common ambition is to give every Nordic B2B salesperson the opportunity to work efficiently and data-driven by combining and integrating first-class structured and unstructured data from smart Sales Intelligence services. This investment is also an important strategic step for us on the journey to becoming a leader in the Nordic region in business information as we gain access to new data and expand our analytical skills. It will contribute to our innovative power and accelerate our service development, says Anders Frimodig, Nordic Manager, Products and Services at Enento Group.
The investment provides an opportunity for Enento Group to add a unique Sales Intelligence service to its portfolio. For Goava, the collaboration means an opportunity to grow in the Nordic countries through access to a larger market. The partnership also means that Goava can add new high-quality data in its services and the opportunity to reach new users through Enento Group's leading marketing channels such as Allabolag and Proff with a total of over 6 million unique visitors per month in the Nordic region.
- Relevance is the keyword for modern B2B sales. Companies in the Nordic region are increasingly investing in data and in CRM to ensure their competitiveness. With AI and Machine Learning, Goava recommends which companies you should process and enriches customer's CRM with valuable data and insights. We want to help all Nordic B2B salespeople work more efficiently and data-driven. Thanks to the partnership with Enento, we not only get access to market-leading data but also access to dominant market channels such as Allabolag and Proff, where we can reach out to millions of users with our data-driven insights, says Jonas Ehne, CEO and founder of Goava Sales Intelligence AB .
- We believe that our expertise in AI and Sales Tech is a perfect match with Enento's broad reach and high-quality data, adds Henrik Stridsberg, co-founder and chairman of Goava Sales Intelligence AB.
For more information, please contact:
Anders Frimodig, Nordic Manager, Products and Services Enento Group
070-180 01 69, anders.frimodig@uc.se
Karin Arrenfeldt, Nordic PR- and Communications Manager Enento Group
073-914 84 31, karin.arrenfeldt@uc.se
Jonas Ehne, CEO and founder Goava Sales Intelligence AB
070-298 35 34, jonas.ehne@goava.com
About Enento Group
Enento Group is a Nordic knowledge company powering society with intelligence since 1905. Who collect and transform data into intelligence and knowledge used in interactions between people, businesses and societies. Their digital services, data and information empower companies and consumers in their daily digital decision processes, as well as financial processes and sales and marketing processes. Approximately 425 people are working for Enento Group in Finland, Norway, Sweden and Denmark. The Group's net sales for 2020 was 151.3 MEUR. Enento Group is listed on Nasdaq Helsinki with the trading code ENENTO.
About Goava
Goava Sales Intelligence AB, with it's headquartered in Stockholm, was founded in 2016 and has today around 30 employees. Goava's service offering Sales Intelligence aims to improve sales efficiency by giving B2B salespeople more time to focus on selling to the right company. The services link the customer's own intelligence on its customer base from its CRM to the open and public information as well as structured official data about each company in the market to create insights. Today that company has more than 140 customers, mainly in the Swedish market.
Want to know more about Goava?
Book a personal tour of the platform
Book a demo